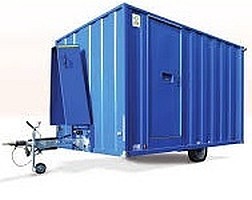 GP360
It is a Health and Safety requirement for contractors & employers to provide basic welfare facilities when there are three or more employees working in the open.
Eagle Plant offers (among others!) the GP360, which addresses these requirements in one easily transportable unit.
Easily towed, the GP360 Welfare Unit is parked at its location and then set down using unique hydraulic jacks and retracting wheels.
Once on the ground the tow-bar is covered with the integral nose cone for added security. All these operations can be completed in less than 3 minutes by one person!
What's Inside?
The rear of the unit houses a recirculating toilet with hand washing facilities, a drying room and super silenced diesel generator.
The front of the unit is furnished with a kitchen comprising a single stainless steel sink with cold water tap, 20 litres of fresh drinking water with disposable cup dispenser, a 20ltr waste water tank, instant hot water hand wash, microwave and first aid kit. Inside surfaces are easily cleaned and maintained during day to day use.
The adjoining rest area includes a table and seating area for up to six people, with electric heater and remote starting facility for the generator.
Easy to Move!
As the work area moves, the GP 360 easily moves with it. With only a 3 minute pick up and set down, downtime is reduced to an absolute minimum saving both time and money.
Product Specifications
HSE Compliant
One man'3 min Set Down' Operation
6kva 240V Diesel Generator
Toilet and Wash Hand Basin
Drying Room
Single Sink
Instant Hot Water
Drinking Water
Microwave
Table and Seating for 6
5 lever deadlocks
Eco Friendly GP360 Fusion
12v Electric Engine Driven
'On Demand' Battery Charger
Rainwater Harvesting Facility available
Waste Water Tank
Flush Toilet
Insulated Floor