Brushcutter Strimmer
Brushcutter Strimmer Brushcutter Strimmer hire from Eagle Plant. A selection of machines suitable for clearing overgrown areas of grass, weeds and bushes etc. Can be supplied with nylon cord or….
---
Chippers – Towable & Tracked
Chippers – Towable & Tracked Chippers – Towable & Tracked hire from Eagle Plant. Towable and tracked shredders represent the most effective way to shred (or chip) large volumes of….
---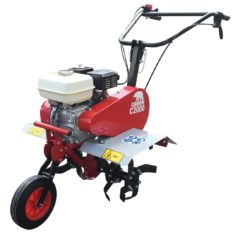 Cultivator
Cultivator A Cultivator offers a lighter version of the rotavator and they are primarily used for turning previously dug ground (as opposed to breaking new ground). A physically lighter machine….
---
Garden Roller
Garden Roller A Garden Roller from Eagle Plant can be used to give a level, professional finish to lawns. These water filled rollers are supplied empty for easy transportation and….
---
Garden Shredder
Garden Shredder A Garden Shredder is ideal for smaller domestic or low volume disposal of small branches, twigs etc. Tree trimmings and small timber off cuts can be shredded and….
---
Hedge Trimmer
Hedge Trimmer A Hedge Trimmer from Eagle Plant. We have a wide range of Stihl hedge trimmers and these are some of the most capable machines on the market. They….
---
Lawn Mower
Lawn Mower A Lawn Mower from Eagle Plant will satisfy even the most demanding garden! Our range of Stihl and Viking lawnmowers include push and self propelled versions. Most are….
---
Lawn Scarifier
Lawn Scarifier A Lawn Scarifier from Eagle Plant is a great way to keep lawns in top condition. By removing thatch, dead grass, weeds and particularly moss a Scarifier allows….
---
Leaf Blower / Vacuum
Leaf Blower Leaf Blower / Vacuum machines from Eagle Plant are perfect for use where no electrical power is available. Light and portable they can be used with a collection….
---
Post Hole Borer
Post Hole Borer A Post Hole Borer is available to hire from Eagle Plant in a manual format, which is perfect for small jobs, but for larger (or more repetitive)….
---
Post Rammer
Post Rammer A Post Rammer is a much safer option than using a sledge hammer. These ramming tubes provide an effective way to drive fence posts in to the ground…..
---
Rotavator
Rotavator A Rotavator is designed to replace the need to use a spade to dig out large areas. These machines are perfect for renovating allotments or breaking new ground in….
---
Sign up to our newsletter
This website uses cookies to improve your experience. We'll assume you're ok with this, but you can opt-out if you wish.Accept Read More
Privacy Overview
This website uses cookies to improve your experience while you navigate through the website. Out of these, the cookies that are categorized as necessary are stored on your browser as they are essential for the working of basic functionalities of the website. We also use third-party cookies that help us analyze and understand how you use this website. These cookies will be stored in your browser only with your consent. You also have the option to opt-out of these cookies. But opting out of some of these cookies may affect your browsing experience.
Necessary cookies are absolutely essential for the website to function properly. This category only includes cookies that ensures basic functionalities and security features of the website. These cookies do not store any personal information.
Any cookies that may not be particularly necessary for the website to function and is used specifically to collect user personal data via analytics, ads, other embedded contents are termed as non-necessary cookies. It is mandatory to procure user consent prior to running these cookies on your website.